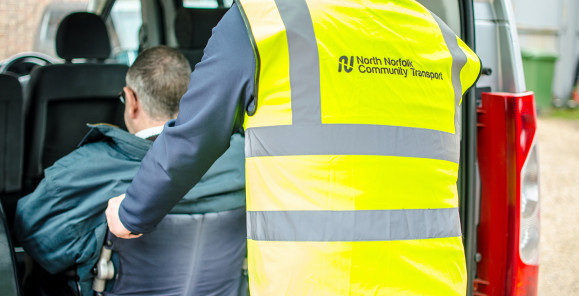 Community Transport Assistant vacancy
22.5 hours per week, Monday to Wednesday (flexible working arrangements considered)
£18,025 per annum FTE (pro rata for 22.5 hour week)
We are on the lookout for a friendly and highly organised individual who would like to make a difference working for our charity and helping people across North Norfolk keep connected with their local community and services. We support people without their own transport to get to the shops, medical appointments, and go on trips that help combat loneliness and isolation.
We are based in North Walsham and need another Community Transport Assistant to help manage passenger bookings, organise maintenance on our vehicles, and generally keep things running well.
This is a great role for anyone looking for some part time hours, as part of a great team, making a difference to the lives of people in North Norfolk.
You will be required to undertake an enhanced DBS check (cost met by the employer).
To apply for this role please complete the application form below and email it to info@nnct.org.uk. For any queries please call Steven on 01692 500840.
CLOSING DATE - 29th July 2021
INTERVIEWS - planned for 5th August 2021
NNCT-Application-Form-Community-Transport-Assistant.doc
JD-Community-Transport-Assistant-June-2021.docx
Community Minibus Drivers Wanted
12 hours a week permanent contract available, as well as bank contract option
We need people to help drive our accessible minibus routes and support our passengers, and we have a permanent role for 12 hours a week available.
We also have the option to join our bank of flexible drivers who can be available to help cover holiday and sickness, as well as take on ad hoc trips.
Community Driver is an enjoyable and rewarding role for anyone who loves working with lots of different people and getting out and about.
You will need to have category D1 on your clean driving licence, and you will also be required to undertake an enhanced DBS check (cost met by employer).
Rate of pay £9.10 per hour
To apply for this role please complete and return the application form below.
job-description-and-person-spec-NNCT-Community-Driver-May-2021.docx
If you have any queries, or to discuss the roles further, please Steven a call on 01692 500840.