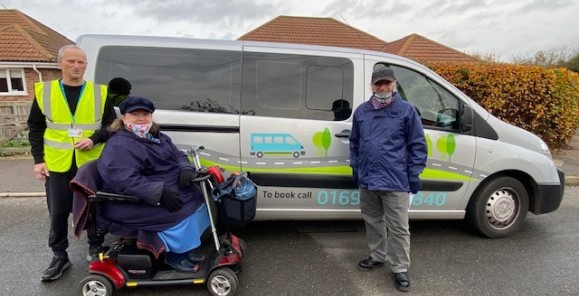 Great news for those who need wheelchair accessible transport.
We are celebrating after receiving a grant from the Charity Motability to expand our Wheelchair Accessible Car service. The new funding means we can support even more disabled people and people with reduced mobility to access door-to-door transport so they can get to medical appointments or visit the people and places they choose.
Motability has funded the provision of an extra vehicle and running costs for the next three years.
Commenting on the project, Jane Bishop, our Executive Lead said: 'This is great news and will enable us to make a commitment to support people over a sustained period of time. We already know, from multiple requests we receive daily, that there is a high demand for this service'.
Here's what one of our passengers said: "I cannot speak highly enough of this service that is provided. It is an invaluable local wheelchair accessible service providing a lifeline to people in need, this includes the family and friends of those who are in a wheelchair".
Lisa Jones, director at Motability, said: "We're delighted to award NNCT with this grant to support the expansion of their community transport service so that more people in North Norfolk have greater access to travel. The grant comes from our portfolio of grant programmes specifically set up for charities and organisations like NNCT who are already doing so much to help disabled people access the transport they need. We encourage any organisation that may be eligible for funding to have a look and apply".
More information about Motability's grants to charities and organisations can be found at https://www.motability.org.uk/charitable-grants/grants-to-charities-and-organisations/.